Staff at Haida Gwaii Hospital and Health Centre - Xaayda Gwaay Ngaaysdll Naay have been recognized for their exceptional commitment to high quality care and patient safety when it comes to delivering babies.
In November, Salus Global granted the Haida Gwaii team the Managing Obstetrical Risk Efficiently (moreOB™) award based on the following criteria:
Team effectiveness and function
Leadership support and involvement
Quality and effectiveness of communication
Engagement and involvement of all professions
Application of knowledge to practice
A commitment to quality improvement and quality care
In granting the award, moreOB Lead Facilitator Lynn Popien said, "This demonstrates your commitment to making patient safety everyone's priority." 
The intensive moreOB training program is aimed at reducing adverse events and costs, and improving teamwork and communication across all disciplines when it comes to maternity care.
Kerry Laidlaw, Site Manager for Northern Health's Haida Gwaii Hospital and Health Centre - Xaayda Gwaay Ngaaysdll Naay, said staff have been committed to the moreOB program since it was first introduced to health care professionals 14 years ago.
"Close to 90% of our staff, including seven physicians, are active with the moreOB program," Laidlaw says. "We are the smallest and most remote maternity program in the province that continues to deliver babies at a site without surgical backup. It only works because everyone is on board."
Training, practicing, and working together as a team
As part of the moreOB training, staff read and review education modules together. They have biweekly perinatal rounds and team meetings in which all staff participate. They host day-long workshops, as well as monthly skills drills to prepare for emergency situations. They also regularly review and practice safety procedures.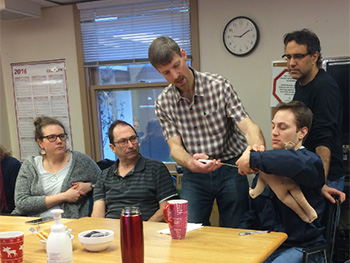 "What this team lacks in capacity for advanced medical intervention on-island, we make up for with an incredibly supportive healthcare culture," says Midwife Anne-Marie Caver. "The Haida Gwaii maternity care team is made up of nurses, physicians, midwives, doulas, and off-island consultants who collegially strive to provide respectful, individualized, culturally-sensitive care within the community."
"Everyone agrees on protocols and communications tools. In an emergency, everyone speaks up. There's no hierarchy in an emergency. It's a very different way of practicing," Laidlaw says. "It's a huge commitment for administration to support this training and for staff to participate, but it's proven very valuable. Everyone has gained from it - most especially women who feel safe delivering their babies close to home."
Haida Gwaii's core moreOB team includes: midwives Anne-Marie Cayer, Shannon Greenwood, and Celina Laursen; moreOB lead nurses Amy Clarkson and Meggan Wood; Site Manager Kerry Laidlaw; and Chief of Staff Gordon Horner.
This is one of several moreOB awards the team has won. Congratulations!