Staff and residents of the Stuart Nechako Manor in Vanderhoof are gearing up for adventure after the success of a local fundraiser.
The "Give a Lift" fundraising campaign was organized by Marnie Bell, recreation therapist, and Chona Dick, manager of Complex Care, to fund the purchase of a new wheelchair accessible bus for the long-term care facility.
In total, the fundraiser brought in more than $204,000 to support the purchase of the bus and the upgrades needed to transport the residents safely.
Funding came from a myriad of sources including government and private sector grants, private organizations and businesses, and individuals within the community.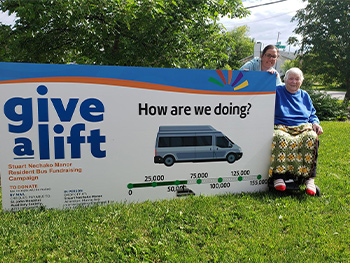 "Around $75,000 [came] through grants and the rest was community donations," said Marnie. "We also partnered with the local St. John Hospital Auxiliary to help bring in money, so people would get tax receipts. And we were lucky to have a family member that was quite involved, with a history of writing grants. She helped us out immensely."
Local organizations like the Regional District of Bulkley-Nechako, St. John Hospital Auxiliary, and the District of Vanderhoof together pitched in over $105,000, with the remaining amounts coming from personal donations.
Upgrades on the new vehicle include the addition of a wheelchair lift, added capacity for up to six wheelchairs with proper securing tiedowns, and more available seating.
"We run an adult day program for the community, and it's integrated within the Manor," said Marnie. "We go and pick people up from the community for the day and bring them in. We try to do an outing once a week with our residents, even through the winter. We go to local events around town, go for lunch or coffee outings, and we go for picnics, and to Fraser Lake or the park in the summer."
The care facility is currently without a bus as the old one broke down several months ago, Staff anticipate the arrival of the new bus in the fall of 2023. When the bus is delivered it will sport the logos of the community partners who pitched in to secure the purchase. An open house and BBQ will be held to celebrate the bus arriving, a plaque recognizing the support from every community funder will be hung inside the facility, while the three top donors will be presented with a personal plaque to display. 
Northern Health has agreed to take the bus on as a piece of its vehicle fleet, managing and financing ongoing maintenance needs and fuel costs.
On behalf of Stuart Nechako Manor, the staff and residents would like to thank every business, agency, and community member who helped secure this vital means of what amounts to personal freedom.