Northern Health and the YMCA BC have partnered to announce the opening of a new pilot project daycare in Fort St. John.
The YMCA Robert Ogilvie Care and Learning Centre is designed to address the current lack of child care in the community and to benefit rotating, extended-shift healthcare workers in the area. YMCA BC will act as the service provider, managing the full scope of the program including registration and scheduling, while funding for the project is supplied by the Ministry of Health, Health & Human Resources fund.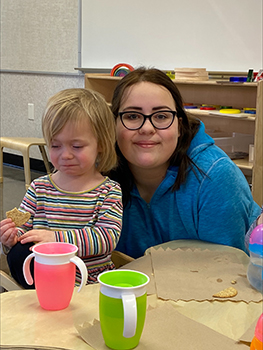 Demonstrated need
The first-of-its-kind pilot project will work to explore the feasibility of an extended-day model of child care for children of rotating, shift-working health care staff who need child care as early as 6:30 am and as late as 7:30 pm, Monday through Friday.
Viva Swanson, advisor, leadership development, NE Community Services Management at Northern Health, says the need is there for this type of programming in the community.
"This has been in the works since the fall of 2019. We're trying something new that has never been done before," she says. "We don't have a single care provider in the community that is open that early and stays open that late. Some might stay that late, some might start that early, but none do both."
Pricing and flexibility built in
What makes this daycare different from any other in Canada is the built-in scheduling flexibility, a major function of which will be trialing a new payment scheme where parents only pay for the time and services rendered, rather than paying for full-time child care.
 "Currently [workers] have to pay for a full-time spot, when their rotation is such as they rarely need five days a week," says Viva, who hopes this project fills a major gap in community services. "We're rotating shift workers, 7 am until 7 pm, and then 7 pm until 7 am. [Parents] have to come up with two or three different strategies because [daycares] close at 6 pm, so [parents] still have to figure out what to do. Somebody's got to pick up your kid before end of shift."
Staff with children enrolled in this program will only be charged $10 a day. The average price for full-time child care in BC is $1000 per month for a child under three years of age, and in some areas can cost up to $1600. Costs run high for parents who do not qualify for provincial incentives like the Affordable Child Care Benefit, or if their daycare is not part of the Government's $10 a day program.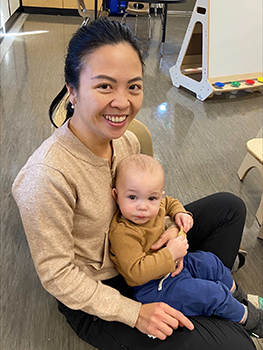 Measuring success
Viva says the pilot program will be assessed on how well this new model of scheduling and pricing works, and how well it could be replicated in other daycare settings across the North.
"The prototypical component is testing the new model for its efficacy. . . as the model evolves, [we will] try and replicate it elsewhere," says Viva. "The intent is, if this goes really well, we would be looking at replicating in other communities in the health authority."
Another method to measure the success of the project takes a care-based approach. Viva asks would success be "one experienced nurse coming into a high-need department like emerge or the OR, or one who stays for five years? We have to take care how we measure"
Opening day
The project was initially slated to open for enrollment in August 2022. Since then, the facilities at Robert Ogilvie School have undergone renovations to ensure the daycare space is suitable for the project to succeed, including upgrading the outdoor play area.
Registration for the day care opened March 1, 2023, with 24 spots available for children and Viva couldn't be more excited: "I'm pretty excited and I'm really hoping it's a great success!"