Duane Jackson has worn many hats in his years serving children and families on the Northwest Coast. His many positions held include former Aboriginal Coordinator for Success by Six and Regional Coordinator for Children First. He now works with the Hecate Strait Employment Development Society as a Trainer/Facilitator and Employment Counsellor. Jackson is also co-chair on the Aboriginal Steering Committee with the Human Early Learning Partnership.
Most importantly, Jackson is a family man – he and his wife are the proud parents of three children. Between his professional and personal life, Duane Jackson has had the opportunity to glean a great deal of wisdom with a child-centred focus.
Can you tell me a bit about yourself?
I grew up on the Northwest Coast, but I'm Gitanmaax from Old Hazelton. I actually lived at one of the fishing canneries, North Pacific Cannery on Inverness Passage, when it was an operating cannery – now it's a museum! I've been in Prince Rupert the majority of my life, grade 3 on, and went to high school here.
When I was 26, I met my wife, Christine, and we've been together for 23 years now. We have three children, a 17-year-old, a 14-year-old and an 8-year-old.
As a father of three, what have you found most unexpected in fatherhood?
I didn't expect it to be the humbling experience that it was. I realized right from the birth of my first child that the importance of this job was so completely over and above anything that I understood in my life at that point. This small individual was going to encompass me so completely. With my first boy, with Caleb – I actually never put him down once! I carried him everywhere. I never put him in a buggy or a stroller; I carried him. He was in my arms all the time.
The biggest thing was the level of humility that was required, and the beauty of that was how much growth was involved in that process because of the fact that if you don't embrace that humility, it will totally uproot you.
You graduated from college at age 40 and immediately began your work in serving children and families. How do your life experiences and education combine in your approach to your life and work?
Throughout my Early Childhood Education learning, the one thing that really got me was advocacy. But then of course, according to my culture, as a Gitanmaax person, I must advocate for children. Every child within my society is my responsibility. Not every Gitanmaax child, every child. My culture speaks to it, and as an Early Childhood Educator, my code of conduct speaks to it as well, that every child is my responsibility.
What makes Prince Rupert a healthy community for children?
We have many activities for children, from minor league soccer and basketball, to the recreation centre for more activities. But we must remember that Prince Rupert is leading the province in unemployment. There is a huge societal barrier to accessing some of these activities. It's not just Indigenous people who believe these programs just aren't for them. It's societal. In Canada we have the lowest percentage, globally, of children and families who access community programming.
We see a lot of families out at some great community events here: the Halloween Fest, the Winter Fest, the Children's Festival ... you see all generations of families out together, from the elders down to the smallest children.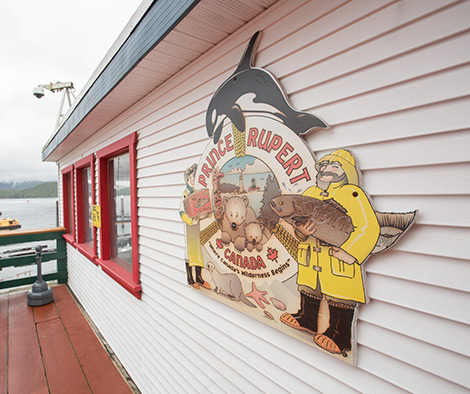 One of the things I am always excited to see is children from diverse backgrounds who speak their language. Not just Indigenous languages, but all cultural groups. When they speak the language of their parents, I think that's really exciting. You see that a lot here in Prince Rupert because there are many ethnicities represented here.
In your opinion, what small things do you do, that others can do, that may have big impacts in supporting healthy childhoods?
I think it's in doing things together – doing activities together – and getting kids off of the computer. Getting kids off of screens! We're steadily raising a generation of young people that will not have the ability to communicate effectively and positively. There's just no amount of emoticons that you are going to attach to a text message that are actually going to tell me how you feel. This is starting younger and younger. You can go to a restaurant and see a family of four where all four people are on screens, no one is having a conversation. At our table here at home, where we have dinner together every night, there are no phones. My phone goes away. I have that deal with my family – and we talk. At the table – no one is watching TV!
These are the pieces – do things together, be involved, be supportive. And not just going out and watching your children do their activities. One of the most exciting things for me this year was having my daughter come and watch me coach basketball. She would come and watch my team play, and watch me coach. Bring your children with you into a social setting so that they can see how you are in that setting. All of us are different in our own homes than in a social setting. I think the secret is to get your children out with you in social events.
Knowing what you know now – if you were to go back to those early years with your children – what would you try to do more of with them?
Play, play, play. Hold onto them as much as possible, which is what I do now – even with the older boy and my 14-year-old. Squash 'em, squash 'em, squash 'em as much as I can! And never show them anger. I can show them disappointment, I tell my children I can be disappointed with your decisions, but at no time, ever, are you a disappointment.
If I were to go back, punishment would go out the door. I would go with restorative justice. I would walk, and talk, and teach and do nothing else but that.
If I was to talk to a parent, or talk to myself when I was a new parent, I'd tell them just to love and give and respect your children unconditionally. To give them these three things throughout our lives together and expect nothing in return. That's what I would do ... and advise.
This article first appeared in Healthier You magazine. Find the original story and lots of other information about child health in the Summer 2016 issue: