Since 2007, Farm to School BC has supported 41 local food-to-school initiatives in Northern BC. The farm-to-school movement continues to expand in the North, now with hubs in the Northwest and North Central regions. To learn more about Farm to School BC and the role of regional hubs, check out Farm to School BC grows in the North, Part 1: Planting seeds.
This spring, eight schools will be starting new projects with support from Farm to School BC grants. There are also dozens of Northern schools already advancing exciting projects to better connect students to local food.
Sprouting success: Farm to school initiatives take off across the North
Wondering what some of the previous Farm to School BC grant recipients are up to? Here are a few examples that just might inspire you to start your own project – at school or at home!
Thanks to dedicated school staff, students, volunteers, and community members, many farm-to-school programs continue to grow and thrive:
Kitimat City High School has a greenhouse, fruit bushes, two beehives, planter boxes for flowers, and a cedar smokehouse constructed by the students themselves. "Haisla community members have been extremely supportive in working alongside us to develop the smokehouse to follow traditional Haisla methods for preparing and smoking salmon," said one teacher. "As the students engage with these methods, Haislakala, the language of the Haisla people, becomes woven into our work. We are most grateful for this learning."

The indoor grow towers at Heritage Elementary have been a great way to provide students with hands-on experiences with growing their own food year-round (Photo credit: Heritage Elementary School)

Heritage Elementary in Prince George uses an indoor grow tower to teach students about the life cycles of plants and saving seeds to share in the school's seed library. Students also raised praying mantises and learned how insects can either help or hinder plant growth.
McLeod Elementary in Vanderhoof has grown its initial salad bar program to include a full school garden, several meal programs, cold storage, and a range of food-based learning opportunities for students. Thanks to a partnership with the Nechako Valley Food Network and the District of Vanderhoof, they also expanded to a community garden space.
Van Bien Elementary in Prince George is installing outdoor garden planters, where students will be planting and caring for plants. They hope to integrate community knowledge by inviting local Elders and Knowledge Keepers to share oral stories and teachings about how plants are grown and harvested, and how they connect to the local ecosystem.
Inspired to join the local food-to-school movement?
Whether you're starting small or dreaming big, Farm to School BC offers a variety of resources for educators and schools to support learning in the classroom, kitchen, garden, and on the land: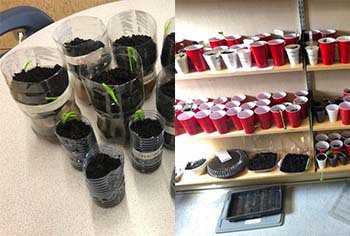 Want to stay connected with Farm to School BC?
You can stay up to date on upcoming grants and resources by visiting the Farm to School BC webpage, signing up for their monthly provincial newsletter, or following them on Facebook, Instagram, or Twitter.
You can also join a Northwest or North Central region discussion group to connect with like-minded people and learn about school initiatives in your area.
This story was co-written with Margo Peill and Roanne Whitticase from Farm to School BC, a healthy eating program administered by the Public Health Association of BC. A special thank-you to all the schools that shared stories and pictures from their local food-to-school programs.