Dr. Magda Du Plessis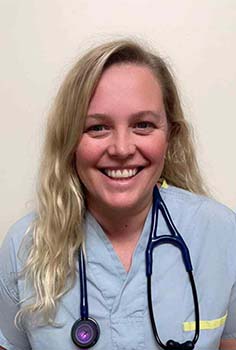 Dr. Magda Du Plessis has been caring for patients in the North since 2017. Originally from South Africa, she has lived and worked in Canada since 2010. She spent some time in Alberta before moving to Penticton, where she found that the busy Okanagan did not suit her. Since coming to Dawson Creek, she has found a more comfortable groove in small-town life in Northern BC.
Dr. Du Plessis has always been interested in obstetrics (the care of people during pregnancy, childbirth, and the postpartum period). The goal of opening a pregnancy, birth, and postpartum (the period after birth) clinic in Dawson Creek was directly in line with her professional passions. That goal became reality when the Chickadee Maternity Clinic took its first patient at the end of November 2021.
Pregnancy care in Dawson Creek
In the last few years, Dawson Creek has experienced changes in maternity care as health care professionals in the community have come and gone. The city had been without a dedicated gynecologist (a doctor who specializes in the reproductive health of people who menstruate) since approximately 2019. This prompted Dr. Du Plessis and her colleagues to develop the collaborative maternity clinic.
Obstetric doctors, a midwife, a nurse practitioner, a pharmacist, a diabetic nurse educator, maternity care nurses, and a medical office assistant make up the clinic team. When they started building the framework for the clinic, they focused on listening to their community. This included discussions with patients about their wants and needs, and about their concerns about working with this team instead of their regular family doctors. Other considerations revolved around the work-life balance needs of the clinic team.
Dr. Du Plessis and her team decided to provide care under the midwifery model. This means that patients have longer meetings with their caregivers, and more freedom of choice. In this model, the clinic team combines primary physician care and midwifery practices.
Physician Quality Improvement
Dr. Du Plessis worked with the Northern Health Physician Quality Improvement (PQI) team to help make the clinic a reality. She attended Virtual Action Learning Series to gain new tools for quality improvement in health care. Working with her PQI Coach, Dr. Du Plessis used what she learned as she and her team planned and created the Chickadee Maternity Clinic.
The Chickadee Maternity Clinic
The clinic launched in 2021, with pregnant patients moving from the primary care of their family doctors to care in the clinic. The clinic is accessible by all patients in the area.

With the Alberta border so close to Dawson Creek, this can include people from outside BC. It's important to note that due to midwifery policies and procedures, the midwife cannot see Alberta patients. As well, billing is different for BC and Alberta patients. However, these are challenges, not roadblocks. People who live in Alberta can still access the clinic.
The clinic sees patients in pregnancy, during deliveries, and until they are six weeks postpartum. The clinic team can see diabetic patients and has a gynecologist available for all high-risk patients. Dr. Du Plessis and her team have also incorporated mental health care into their services. The clinic's next-door neighbour is Haven Family Services, which offers counselling and therapy services.
The team also includes advanced surgical obstetric providers, which means they can perform births via surgery (caesarean, or "c-section" births). A goal of the team is to lower the rates of medical induction and c-section births.
Another bonus of the clinic is that they have an ultrasound on site to help check the position of the baby and placenta. As this is not a formal or accredited service, there is a more formal process for pregnancy dating and anatomical ultrasound scans. The ultrasound machine at the Chickadee Maternity Clinic is purely part of bedside care. Pregnant people and their families can see the development of their pregnancies during appointments if they choose. Because of this equipment, Dr. Du Plessis has been able to give the joyful news of twin pregnancies to expectant parents.
The more important goal of the clinic team is that patients feel welcome, accepted, and well cared for during pregnancy, birth, and postpartum. The clinic encourages patients to make many informed choices about their own care, and provides access to a collaborative team that ensures excellent quality of care.