Whether you are carving pumpkins, dressing up in costumes, or taking the kids trick-or-treating, there is fun to be had by all this Halloween season!
As a dietitian, a question I get asked a lot this time of year is, "What do I do with all the Halloween candy my kids brings home?"
Friends, family members, and online sources offer up many strategies for parents to try. However, the emphasis is often on getting kids to eat less candy, so what is supposed to be a fun and positive experience can quickly turn into a battle.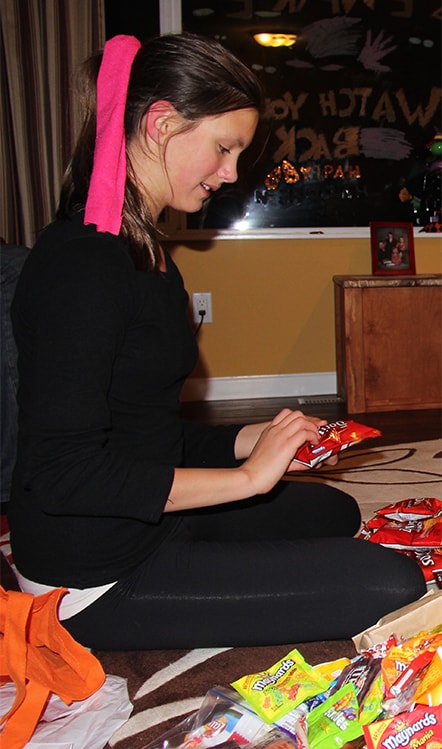 Halloween is a great time to practice the Division of Responsibly in Feeding. You as the parent are responsible for offering a variety of foods at regular meal and snack times, while kids decide what and how much they want to eat from the foods you provided.
To build on this, registered dietitian Ellyn Satter suggests using Halloween as a learning opportunity and letting kids manage their own stash. You will need to set few ground rules first, of course!  It could look something like this:
On Halloween and the next day, let kids eat as much of their candy as they want.
Then, put the candy away until meal and snack times.
At meal and snack times, let them choose a few pieces of candy.
If they follow the rules, they get to manage their own stash. If not, you manage if for them using the same principles.
Hold on. Did a dietitian just say it's okay to let kids eat as much candy as they want on Halloween?  Yes!  Allow me to explain:
Of course it is likely that kids eat more candy than usual on Halloween, and that's totally normal. After that, the key is offering candy as part of regular sit-down meals and snacks, while you continue to choose the rest of the food served. This helps kids become competent eaters by helping them learn to:
Feel more relaxed about all kinds of foods, including candy.
Enjoy candy as part of a normal, healthy eating pattern.
Listen to their tummies when deciding how much to eat (studies show that when foods are restricted, kids may eat more of those foods when they get a chance, even when they are not hungry).
So there you have it – a dietitians take on Halloween candy. To learn about ways that you can support a more safe and inclusive Halloween for children with food allergies check out Lindsay's blog, Foodie Friday: Halloween celebrations – more than just food.
Have a happy and safe Halloween everyone!