Making Terraceview Lodge feel like home
How do you define "home"? One definition was suggested by Northern Health Occupational Therapist Cheryl Block: "It's the place where you make a genuine contribution, where you're a part of what's going on. That's what feels like home."
Implementing the DementiAbility initiative
Cheryl, who works in Terraceview Lodge, is helping implement the DementiAbility initiative, which she says has been positively received by residents and their families.
DementiAbility, which is based on the Montessori educational philosophy, is an approach to caring for people with dementia that focuses on maximizing abilities instead of focusing on disabilities.
"We really work to prepare the environment so people can be successful," says Cheryl. An example is using signage on walls to tell residents how to find the dining room or the activity room. "This can really decrease anxiety and help people feel, 'Hey, I can be independent, I know where I'm going'," says Cheryl.
Another aspect of the DementiAbility approach is giving residents the chance to carry out day-to-day activities to help care for their home, Terraceview Lodge.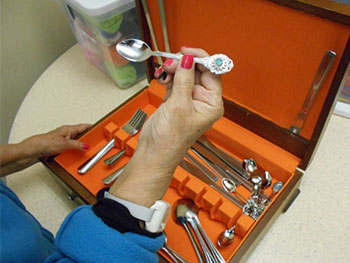 A sense of purpose and belonging
"We already have some residents who love to fold the aprons we use at mealtimes, and others who tend our plants," says Cheryl.  "You can ask them, 'I have this load of laundry that needs folding, would you be willing to help me?' – and someone who isn't interested in a more formal workout can still get some of the same range of motion and strength benefits - and also with a sense of purpose."
Cheryl has challenged other departments at Terraceview to come up with activities they could involve residents in on a regular basis. "It's been really neat, the response we've got from the residents - the smiles that we get - it's that sense of purpose and that sense of belonging," she says.
Another type of activity that has been a success at Terraceview Lodge is reading groups, where residents take turns reading a large-print book aimed at their age group page by page.
"I have to say, this is something that gives me goosebumps," says Cheryl. "We've seen residents who are generally nonverbal and don't interact with others come to these reading groups, read everything clearly and concisely and then participate in discussion group. It's really neat to see how allowing residents to use the abilities that they have, can brighten their day and the day of anyone who interacts with them."
Making DementiAbility a success at Terraceview Lodge
Cheryl notes that it's been a team effort to make DementiAbility a success at Terraceview Lodge. "The team has come together to make this a success," she says, "all the way from Quality Improvement at the regional level supporting us; Brad, the manager here, has been extremely supportive and enthusiastic; and all the departments, from maintenance to dietary, housekeeping, and nursing. Everyone is really wanting to be part of something that's good for the residents -- it's ultimately all about the residents and what's best for them."
With the help of Northern Health's Quality Improvement department, Block is working on spreading the DementiAbility approach throughout Terraceview Lodge. "It's exciting to see where this will go," she says.