Most of us take clean air for granted. That is.... until the sky turns gray with smoke or we wake up to an eerie Armageddon-like morning while the sun hides behind a thick layer of cloud. At those times, we quickly start to think about how we can best protect ourselves and our families from the smoke.  I have young children, one of which has asthma, so this has been foremost on my mind over the last couple of smoky weeks.
Because I work in air quality at Northern Health, I have access to some great and easy to follow advice (and you can find it on the NH website too). Here are some strategies that my family and I have been following to keep us healthy during these smoky days:
Check on medication
Since my son has asthma, the first thing I did was to make sure that his asthma management plan was up to date, that his regular medication was filled, and that we had enough rescue medication on hand to be able to manage his condition. I have been helping him to understand and follow his asthma management plan and keeping tabs on whether or not it is working. He knows when and how to use his rescue medication and we have talked about when we would go to the doctor for additional support.
Stay indoors
While everyone reacts differently to wildfire smoke, it is important to listen to your body and reduce outdoor strenuous activity during very smoky conditions. Healthy individuals can still go outside and be active during less smoky periods, but for those with chronic conditions, the recommendation is to stay away from rigorous outdoor activity altogether when there is smoke in the air. Because of this, we have been keeping the kids indoors and keeping them occupied with various indoor activities. This has included activities like building with Lego, beading, and edible slime-making, and (for the safety of my breakables and all of our sanity) also more active activities, like going to the pool and our local civic centre. Public facilities, like community halls, malls, libraries, and pools often have better filtration systems and can offer a nice reprieve from being stuck in your home.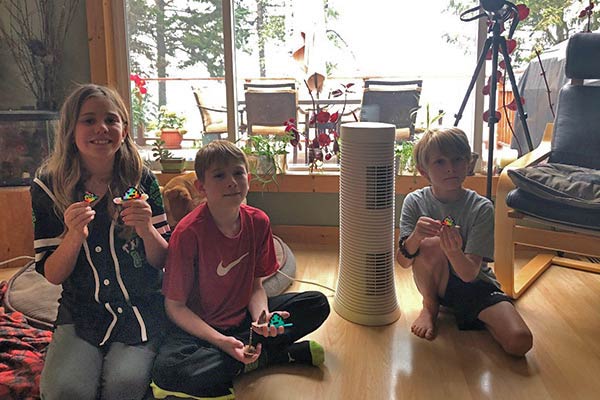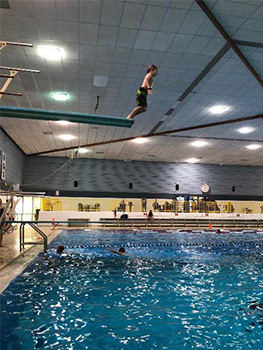 Keep inside air clean
Of course, when staying indoors, it's important to try to keep the indoor air clean. We try to open windows and doors only when needed. I also have two HEPA air purifiers running in the house. One of these is set up in my asthmatic son's room so that he has a "clean" place to sleep at night. The other is in our common room where we spend most of our time. HEPA air purifiers are recommended over electrostatic precipitators (which can produce ozone) for those with respiratory conditions and the research (and my own experience) tells me that they really work!
It's a good bet that this won't be our last smoky summer, so even if you don't have access to an air purifier this year, my recommendation would be to keep an eye open for deals on air purifiers for next summer season. I bought ours on sale for less than $50 each and they have been well worth it!
Stay put
After posting multiple "Armageddon-like" photos on my Facebook page, I had calls from family located in other parts of the province, asking if we needed a place to evacuate to. At first I was surprised to learn that the public health advice for smoky conditions is not to evacuate, but it made sense once I understood the reasoning. One reason is that smoky conditions can change very rapidly. It is very possible that by the time we left our smoky hometown and drove elsewhere, the winds would have shifted and cleared our hometown air while socking in our new location. Smoke can travel for very long distances. With the number of fires burning in BC right now, we would need to travel quite far to find a place that couldn't be impacted with a change in wind direction. I recently flew from Vancouver to Prince George and we were flying above smoky skies the entire way! Of course, evacuating is also stressful (especially with young children) and can be costly. On a regional scale, community wide evacuations for smoke can take important resources away from those whose safety is directly threatened by the wildfire.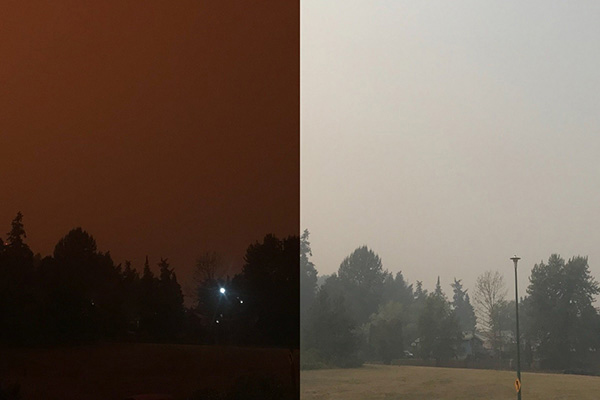 Don't bother with masks
Unless you're required to as part of your work or have been advised by a physician, don't bother wearing masks. Surgical masks (the thin white ones you can buy at a drug or hardware store) offer little protection from the fine smoke particulates. The ones that do (called N95 masks) are quite bulky, are harder to breathe through, need to be fit tested, can't be fit tested on people with facial hair, and don't fit children. The best line of defense is to seek cleaner air! Thank goodness, since I think asking the kids to wear masks would not have gone over well with them.
Don't panic
While very smoky days can be freaky, especially when you or your loved one has a chronic condition, I feel better knowing that most effects will go away quickly when the smoke clears. In a month from now when we are rummaging through our closets to find our winter gear, this will likely be a far off memory.