Did you know that March 14th is National Dietitians Day in Canada?
On this day, we celebrate registered dietitians (RDs) as health care professionals who support health through food and nutrition. It's an opportunity to pause and reflect on the contributions of the approximately 35 passionate, knowledgeable, and dedicated RDs that work all throughout Northern Health. In particular, I started to think about those dietitians that have served in the north for many years and how things have changed over the years.
Linda's story
I first met Linda McMynn in the fall of 1996. She interviewed (and subsequently hired) me via videoconference for a job at Mills Memorial Hospital in Terrace. It was my first experience with videoconference, a very new technology at the time. Linda's willingness and courage to use this brand new technology really speaks to her openness to seek out new challenges. Linda was the first dietitian to work in Terrace, moving here in the 1970s:
"I got to write my own job description and develop the job the way I wanted. I felt very isolated in the beginning, but the job turned out to be a huge opportunity. I was able to explore and work in many areas of the profession that I wouldn't have if I'd stayed in Vancouver."
Working in the North helped shape Linda's preferences and career path. She says that during her training, she enjoyed clinical work, but intensely disliked food service and administrative dietetics. However, in the past two decades with Northern Health, Linda has immersed herself in the food service world. She pioneered the development of high quality food service practices and policies that have improved food service in all Northern Health facilities. When I asked Linda what she believed to be at the core of her work as a dietitian, she was quick to say 'food first':
"The best way to ensure good nutrition is by preparing, eating, and enjoying good food  . . . ideally with others."
Certainly, I recall her efforts to make this real for the residents of Terraceview Lodge, a residential living facility in Terrace. I've always been struck by how deeply Linda cares about the people she serves. Certainly, many dietitians, including myself, prefer to be working behind the scenes to make things better, like Linda.
Wendy's story
Wendy Marion-Orienti is a dietitian based out of Smithers. Like most Northern dietitians, she is a generalist, working across the spectrum of care: health promotion and prevention, treatment, and long-term care. She is best known for her expertise in person-centred care, especially with clients with diabetes and disordered eating. When I first met Wendy in 1996, I was struck by her passion for food and her focus on providing whole-person care.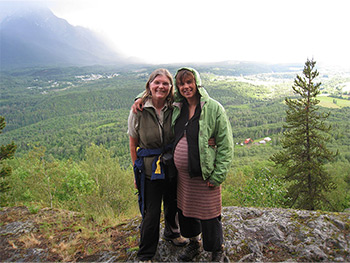 Wendy didn't start out wanting to be a dietitian. Initially she was enrolled in a degree in interior design at the University of Saskatchewan. The program had set courses for the first two years. While taking a required nutrition course, she was struck by the professor's impassioned description of nutrition and its ability to make a profound difference at the local, national, and global level. It was this discovery that motivated Wendy to switch career paths. Her upbringing on a mixed farm in Saskatchewan, where "we ate what we grew and very few foods were purchased (sometimes macaroni)" is what "planted [her] in nutrition," so this switch to a career as a dietitian was an easy one.
When asked what she loves most about her work, Wendy said:
"I feel privileged to have the opportunity to build meaningful relationships with clients, families, colleagues, and community . . . to walk with them, and to support them in making informed choices about their health."
I, along with many other dietitian colleagues, have been on the receiving end of Wendy's warm and nurturing support and friendship.
Reflections of nutrition: then and now
Collectively, Linda and Wendy have offered almost 100 years of quality service to Northern BC.  When asked about changes in the nutrition landscape, both of them reflected on how the field of nutrition has continued to grow.
Linda noted that there has been a growth in the interest in food and nutrition:
"When I first started working as a dietitian, nutrition was not a frequent topic of discussion in the media. I don't remember there being the prevalence of food fads, supplements, and diets being promoted. There wasn't much interest in where our food comes from. Now there is so much more interest in all aspects of food."
Wendy agreed. She reflected that, throughout the years, there are cycles of food fads – the "miracle" food was once broccoli, then kale, cauliflower, and coconut, to name a few. In truth, there are no magic foods, rather the wisdom of variety and balance prevail.
Wendy also appreciates the ever-expanding variety of foods that can be enjoyed. She remembers when yogurt and granola were rare, found only in health food stores. Now, an increasing number of people enjoy diverse eating patterns that incorporate foods from a variety of cultures and those locally grown or produced. Wendy incorporates influences from Korea, China, and Thailand into her cooking, as a result of travel to these countries. However, she occasionally enjoys a traditional meal of roast beef, Yorkshire pudding, potatoes, and fresh greens from the garden, which is a meal from her youth. Although the foods we eat and our understanding of healthy eating has grown over time, the basic understanding that food means more than nutrients, is key. Food celebrates who we are and where we come from.
Honour RDs this year
This year's Dietitians Day, I'd like to honour the RDs that have come before me, those I work with now, and those who will come next. I feel honoured to share in the work that dietitians do. RDs have a strong scientific knowledge base, and promote person-centered health, not only through food and nutrition, but also through their passion, commitment, and advocacy for the health and wellness of the communities they serve.
Do you have a story about how a dietitian has made a difference for you?  If so, we'd love to hear about it. Happy Dietitians Day!