Northern Health (NH) strives to make its values – empathy, respect, collaboration, and innovation – the core of our way of being at work, and the basis for every interaction with our patients, residents, clients, and their families, as well as with each other. On April 3, 2019, NH celebrated individuals and teams that live these values every day, with the 3rd Annual Dr. Charles Jago Awards. Named after NH's last Board Chair, "the Jagos" award one staff member, physician, or team for each value, and recognize many nominations along the way.
"Every year, I'm honoured to present these awards and inspired by the stories of staff living our values," says Cathy Ulrich, NH's President and CEO. "Health care environments are often challenging. The Jago Award nominees and winners demonstrate how to bring your best self to work despite these challenges. To see Jago Award nominations from across all levels and regions of the organization speaks to the dedication and commitment of Northern Health's staff and physicians. I hope NH staff, physicians, and community members will join me in congratulating the 2019 winners."
The 2019 Jago Award winners are:
Empathy: Jennifer Haas – Manager, Specialized Mental Health & Addiction Services (Terrace)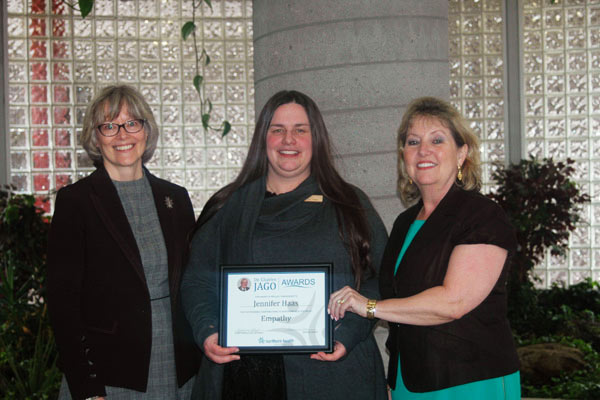 "The clients we work with at the Intensive Case Management Team are individuals who face complex challenges, such as: housing, poverty, barriers to accessing health and social services, and have problematic or chronic substance use. These people are some of the most marginalized in our community, yet Jen has consistently shown that people with an addiction are human beings who, with the right support, can make a contribution to society. For example, when Jen begins work in the morning, it is not uncommon to see people sleeping on our ramp or in the backyard with a tent set up. Rather than tell them to 'move along,' she provides them with a welcoming space inside the building and invites them in for a cup of tea. With each interaction, she is able to authentically listen and relate." – Jessica Gaus, Social Program Officer/Support Worker, Intensive Case Management Team
Respect: Theresa Healy – Lead, Capacity Development & Education, Indigenous Health (retired) (Prince George)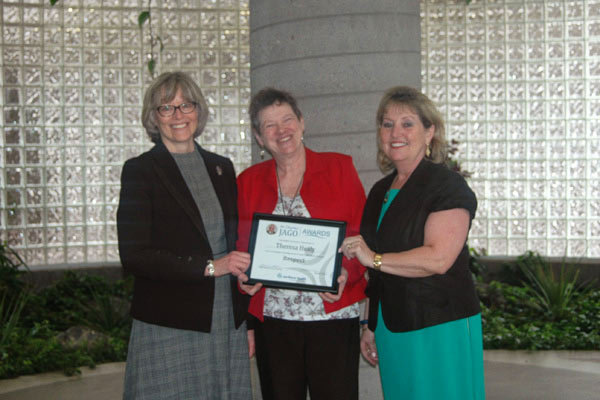 "Theresa has been a dedicated and thoughtful employee of Northern Health for ten years. Broadly speaking, Theresa's work has been with communities to address social determinants of health and improve the well-being of residents in the North. For the past year and a half, Theresa has worked with the Indigenous Health team developing a training curriculum aimed at fostering cultural safety within Northern Health, and the health system at large. Through this work, Theresa consistently demonstrates and lives Northern Health's value of respect." – Victoria Carter, Lead, Engagement and Integration, Indigenous Health
Collaboration: Dr. Anthon Meyer (Stuart Lake & Fort St. James)
"Since he began work in the community of Fort St. James, Dr. Meyer has demonstrated an unwavering commitment to improving health care in the rural and remote communities we serve. Every day, his passion, vision, and expertise draw excitement and guide processes that build partnerships and improve the health outcomes to a level the community has never experienced. The foundation of his leadership is built on strong values that encompass empathy, respect, collaboration, and innovation. As the Medical Director, he leads by example and fosters these values in the group of physicians, inter-professional teams, and administrative staff that he works with. He has built partnerships with First Nations leaders that are based on honesty and respect and, as a result, the care model honours cultural diversity and focuses on improving health care inequities for our First Nations people. Dr. Meyer has dedicated his career to working in Northern, rural, and under-served communities, and, through partnerships, has drastically changed health outcomes for these communities." – Kathy Marchal, Physician Connectivity, Private Physician Office
Innovation: Gene Saldana, Nuclear Medicine Technologist (Fort St. John)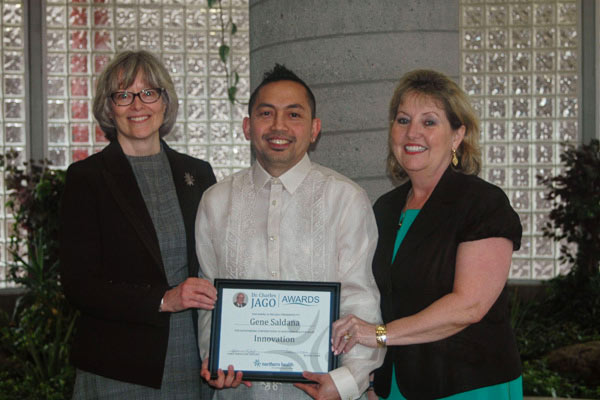 "Gene began working at Northern Health in September 2018. Within the first few weeks, he quickly recognized opportunities for improvement in processes, which would ultimately lead to an increase in patients he could see in a given day, while, at the same time, decreasing the amount of supplies the organization utilizes for these services. Gene's ability to embrace the Northern Health values comes naturally, and he continues to be a value-added member of the team." – Allison Smook, Business Analyst, Business Support
Congratulations to all of the winners and nominees!