Northern Health is celebrating some major milestones in the ongoing COVID-19 vaccine campaign!
In Northern BC, 71% of the population (12+) are now immunized with at least one dose of the COVID-19 vaccine, and 61% are fully immunized. 
While all of the clinics have seen successes, some communities are celebrating big. In Kitimat, 91% of the eligible population have received at least one dose, and the over 80% club now includes: Haida Gwaii, Prince Rupert, Terrace, Nisga'a, Telegraph Creek, and McBride/Valemount.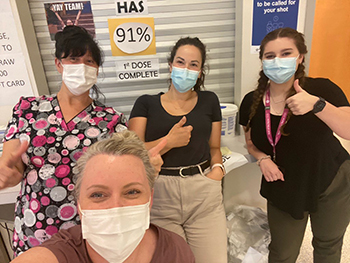 Across the North, community members are doing their part to help stop the spread and transmission of COVID-19 by getting their vaccine. Northern Health staff continue to go above and beyond to ensure that vaccines are available to everyone who wishes to get one; we continue to offer ongoing clinics, drive-thrus, and mobile pop-ups. 
After September 13, 2021, proof of vaccination will be required to access some events, services, and businesses. 
Getting vaccinated keeps everyone in B.C. safe and stops the spread of COVID-19. Visit our web page for drop-in clinic options available near you, book an appointment online, or call 1-833-838-2323.