Northern Health diagnostic services is celebrating the huge accomplishments and achievements of our lab teams over the past year. It was one year ago, on April 21, 2020, that Northern Health began testing its first COVID-19 samples collected in our region.
Fast forward, a year later and despite variant cases on the rise, the laboratory services team is not slowing down in their efforts to implement new methods, platforms, and processes to deliver quick and accurate testing results for Northern BC residents.
At the start of the pandemic, NH labs were not set up to do COVID-19 testing
"Our labs had to purchase testing equipment, validate that those pieces of equipment work, and train staff to actually do the testing," explains Lisette Vienneau, Regional Director Diagnostic Services. "Between our three COVID-19 testing lab locations in Prince George, Terrace, and Fort St. John, our labs now test using three different platforms and seven different pieces of highly specialized lab equipment."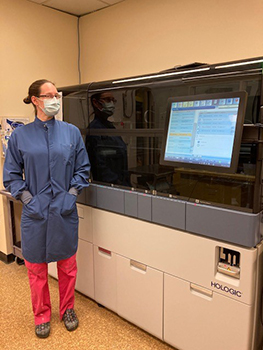 Before NH COVID-19 labs were operational, samples collected in Northern BC were sent to the BC Centre for Disease Control (BCCDC) in the lower mainland and later to LifeLabs for testing. Average turnaround for the BCCDC lab time was 7-10 days.
Once initial in-house equipment came online, NH labs could only process about 15 samples a day, due to regional location, transportation, staffing, and equipment limitations.
Testing in the North means faster access to results
As a result of the hard work and collaboration with other labs around the province over the past year, NH labs now have the capacity to process over 550 samples per day and results are available within 24-48 hours depending on where samples are coming from.
Since April 1, 2021, all samples collected within Northern Health are tested in Northern Health facilities at one of the three testing sites. The Prince George lab processes all community samples from around NH region. All in-patient, long-term care, and healthcare worker samples are processed locally at one of the three sites.  
In addition to the other 3.63 million tests performed annually, since the start of the pandemic, NH laboratories have tested over 24,006 COVID-19 samples and referred 47,116 samples to LifeLabs.
New equipment required training and a new system of support
To support the set up and testing of new equipment, the clinical information system team was instrumental in making this as seamless as possible. The build and validation of new testing equipment takes 6-8 weeks per machine and the clinical information system team resolved over 55 change requests related to the equipment.
With the BC immunization plan rolling ahead, COVID-19 is still present in our region and province. Despite some staffing level challenges, the laboratory services team is confident that the testing platforms and substantial increase in capacity to process samples locally and in a timely manner offers an incredible benefit to all Northern BC residents now and in the future.
Partnering to bring point of care testing to remote communities
In partnership with the First Nations Health Authority, the NH laboratory services team is also implementing new point of care testing devices to some of our most remote areas. These devices reduce the amount of time it takes to get results back and patients can expect to receive results at the time and place where they receive care. The new point of care testing devices are also part of a pilot project at Mills Memorial Hospital in Terrace, as a pre-surgical screening. The First Nations Health Authority recently provided a Genexpert™ device that is in the process of getting validated. Haida Gwaii Hospital lab staff will operate the new device bringing more testing closer to home.
With variant cases of COVID-19 on the rise, current testing methods employed at NH laboratory services can detect wild type as well as variants of concern of COVID-19 virus but cannot differentiate them. As such, all COVID-19 positive samples are referred out to BCCDC for further testing including whole genome sequencing (WGS) based on specific algorithms.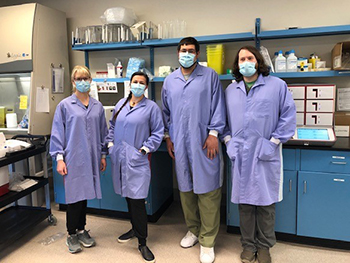 "Thank you to the wonderful and dedicated Northern Health medical laboratory professionals and the clinical lab information system team for their resilience, their perseverance and trust during this difficult year," says Lisette. "A big shout out to the BC labs across the province, the First Nations Health Authority, the many vendors and Northern Health leadership for their support. Without these key players, the task would have been impossible."  
Looking to the year ahead, Northern Health continues to strengthen laboratory services in the region by improving laboratory outpatient services, implementing new state of the art chemistry analyzers, and stabilizing the workforce.