(This story was contributed by Karla Tait, PhD, Mental Wellness Manager, First Nations Health Authority.)
Physical distancing presents a challenge for celebrating birthdays, anniversaries, and other milestones. While we would typically come together to share those moments with our loved ones, now we have to be creative – well, more creative than usual, that is!
Celebrating milestones while staying apart
In some communities, families and friends are doing birthday parades to help their loved ones feel special and connected during physical distancing.
Organizing a birthday parade
This is one way to help children or family members feel special and connected to those they cannot be physically close to during this pandemic. Friends and family decorate their cars and drive by the house of the person they are celebrating. They honk and call out well wishes. This can go a long way to remind us that while we can't celebrate in our usual ways, we have a circle of loved ones who will show up for us and will be there to celebrate when it's safe to do so.
Tips for those considering doing a parade
While there are many ways to do this, here are few tips:
Communicate with friends and family via social media, text, or phone to organize the event. Try to keep it a surprise!
Ensure that you give participants enough lead time to gather supplies and create their signs.
Decide on the date and time for the event, and a location to "gather" for the start of the parade.
Consider a theme. You could spell out a message, with one letter or word on each vehicle.
Let people know what side of their vehicle to decorate, based on how you will drive by the home of the honoured person.
Involve members of your household in making the signs. This is a great art project for kids. My daughter had a lot of fun creating the towering cake for her cousin while I painted the sign. She even practised some spelling when she helped me sound out the words.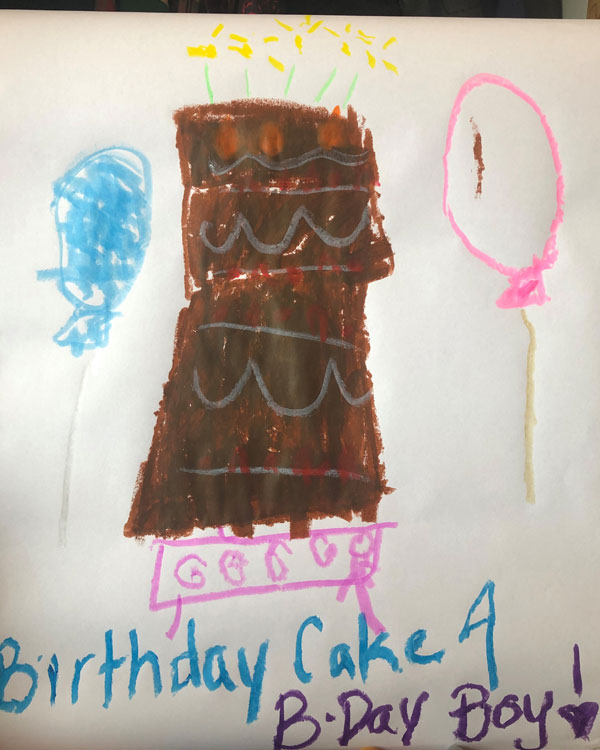 Things to consider if giving gifts during a pandemic:
People are really missing their connections to others, so the parade and your presence is already very meaningful on their special day.
The pandemic has resulted in limited incomes for many families, and the parade is an opportunity for parents and caregivers to discuss this with their children. We can encourage compassion, empathy, and consideration for how they might be able to help others who may be less fortunate. This can be an important chance to shift from material focus to character development, connection, and deeper values. This supports celebrating their presence on this earth by leaving a positive mark, which is what many of us hope to do during our time here.
If you feel the need to offer a gift, consider:

Something homemade, such as baked goods. Plan a contactless drop off.
Gift certificates. A gift certificate for takeout food is a double gift: it helps a local business and gives the recipient a favourite meal to enjoy at home.
An email money transfer. This allows your person to choose what they want or need.
Celebrating while protecting our loved one's safety
By celebrating in creative ways that maintain physical distancing, we're showing our deep regard for the safety of those who are dear to us while still celebrating important moments in their lives. These acts can be reassuring to us too; even in a pandemic we can find good ways to hold up what and who matters to us.