(Note: this article was authored with support from Margo Peill, Northwest region community animator with Farm to School BC)
In the last months of the 2019-2020 school year, schools worked hard to find inventive ways to connect with students and families. As learning shifted from schools to homes, teachers and community organizations worked to develop and adapt creative solutions to help keep students connected to local food systems.
The Northwest BEE SEE program was no exception. With the help of some incredible teachers and dedicated community partners, the program was able to quickly adapt to fit the needs of students learning from home. In the autumn of 2019, the project received funding from an IMAGINE Grant and was supported by Farm to School BC.
The original plan for the funding was to bring a beekeeper and an observation hive into classes in Northwest BC in the spring of 2020. The grants also included funding for field trips so that students could see pollinators and food systems in action. 
To bee or not to bee
Then, the pandemic closed schools and the program was indefinitely postponed. Breeann Doerksen, a teacher at Muheim Elementary School in Smithers, saw an immediate need, and reached out to Farm to School BC with an idea. She wondered whether a portion of the program's funding could be used to purchase seeds, soil, and pots for students to learn about pollinators and the food system from home.
Bee-lieve in the power of community
With the help of partners, the program was adapted:
Farm to School BC worked quickly with the Northern Health IMAGINE Grants team to distribute funding to schools to purchase the materials needed to support at-home growing kits and learning.
Seeds donated to Farm to School BC from West Coast Seeds and the Terrace Food Association were incorporated into some of the at-home growing kits. This helped stretch the funding even further, and support as many students as possible.
A local business offered support as well. The Bulkley Valley Credit Union Community Support Committee provided grants to three additional schools in Hazelton and Kitwanga to purchase gardening supplies, pots, seeds, and soil for students and families. This helped grow the amount of kits available beyond the original estimations.
Innovative teachers empowered students to learn with their kits – Breeann created a YouTube video about the lifecycle of the bee for students to watch at home. Also, two packages of bee-themed activities were put together to support hands-on learning.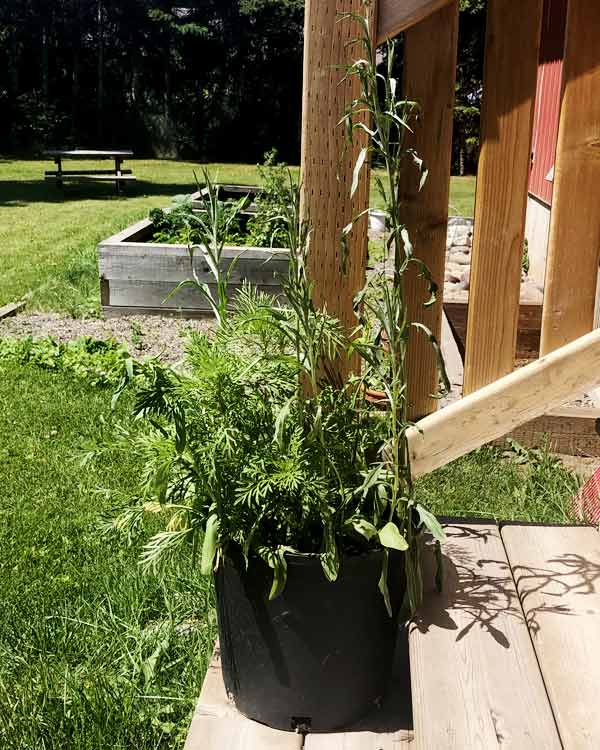 Sweet success
"The project was so well received by families that were schooling from home," says Breeann. "This project encouraged some hands-on learning, encouraged students to dive deep into one topic, and provided a connection to each other, remotely."
Bev Dow, another teacher at Muheim School, welcomed the opportunity for outdoor learning, and a program that could be adapted for both in-class and at home learning.
"We did bee-themed math and often observed wild bees when we walked on the trails behind the school," says Bev. "Definitely the pollinator project helped students to observe bees more closely and to think about the role they play in producing the food we eat." 
In total, seven schools in the Northwest participated and over 300 at-home growing kits went out to families. We hope students will still get the opportunity to have the observation hive visit their classroom in spring of 2021, and that they'll be able to continue to learn about the un-bee-table pollinators supporting our regional food system!
To learn more about Farm to School BC and the Northwest Hub, read Farm to School BC blossoms in the Northwest.