(Note: events in this story happened before the COVID-19 pandemic. Care might look a little different right now to take the necessary precautions to keep staff and patients safe. Adult Day Programs in Northern Health are slowly reopening according to specific criteria to ensure safety of the participants. Communities are looking at options for how to support their seniors.)
"[The Adult Day Away Program] is one of the hidden gems in our community that has been the biggest boost in supporting our elderly population in Chetwynd," says Jason Farquharson, Team Lead.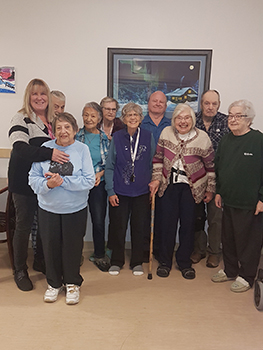 Chetwynd's Adult Day Away Program, which celebrated their first year being open in February 2020, takes people in three days a week to play games, do crafts, and have lunch. Some of the activities include making jewelry, painting, watching movies, and playing bingo and crib.
"I really enjoy it," says Penny Harrison, a nursing assistant and support worker who runs the program. "I like how they all come out for it. They have a lot of fun."
The program is in partnership with the local assisted living space – they supply the space and the food. Northern Health supplies the health and organization.
A nurse will pop into the session and do health talks, vital checks, and take a look at any concerns. This way people attending the program don't have to go to the primary care clinic or make an appointment. In doing this, they've been able to track down medication errors, UTIs, and other health risks that may have otherwise gone unnoticed
The executive director at the assisted living facility has noticed a significant increase in their sociability and sense of community, and it has helped to keep the blues away.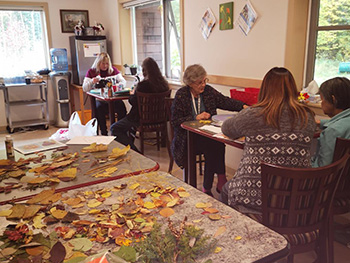 Prior to the program starting, some elderly people at the assisted living facility were really struggling with depression symptoms, as there were no formal activities for them to participate in consistently. In general, for most people at the assisted living facility, there is an inability to go out and be social. Sometimes, residents would only come out of rooms to eat and sometimes not even do that. With the start of the Adult Day Away Program, the residents now have a regular time to socialize and interact with one another.
Some of the added benefits for the people who participate who still live at home, is the guarantee of nutrition - they get a pretty hearty lunch with the program. Single people living on their own may not eat as healthy or regularly as they should, so it's a great option to have food served at the program.
If you or someone you know, may be interested in joining the program, please contact the primary care clinic and start the referral process: 250-788-7300.

"I couldn't ask for a better job!" says Penny.