Northern Health
News Release
Residents of Northeast BC now have better access to diagnostic imaging services with the installation of a new CT scanner at Dawson Creek and District Hospital (DCDH). This will allow the hospital to continue to deliver a range of clinical and diagnostic services that support primary, community and specialized services.
This project represents a $2.55 million investment into better healthcare in Dawson Creek, and the cost of is shared between the Ministry of Health (60%) and the Peace River Regional Hospital District (40%). This includes the purchase of the new machine, replacing the existing equipment, renovations to the scan room and other costs.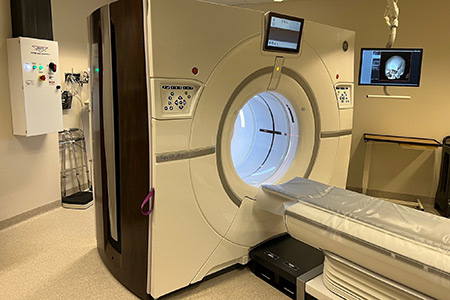 The CT scanner replacement project began in early August and included renovations and construction in the scan room, installation of the new machine, acceptance testing and application training for technologists. Earlier this month, the new CT was put into service for urgent and semi-urgent diagnostic needs while application training took place; DCDH Medical Imaging has now resumed booking of non-urgent scans as well, with a full return to regular services by the end of October.
The new CT scanner is a GE Revolution CT ES with a larger bore size, increased image capability, reduced sound, faster rotation times (0.28 seconds) and lower radiation doses. This substantial upgrade in technology and performance will increase the quality of patient care, reduce downtimes and delays in scanning and improve the overall patient experience.
The Dawson Creek CT scanner is one of two in the Northeast health service delivery area. Northern Health wants to acknowledge and thank the FSJH medical imaging staff and technologists and DCDH medical imaging staff who travelled daily to the FSJH for their support ensuring continued support for Northeast patient care needs while the project was underway.
The new CT scanner in Dawson Creek will eventually have a new home given the Dawson Creek and District Hospital Replacement Project (currently in the procurement phase). Once construction on the new hospital is complete, the replacement CT scanner will be transferred to the new facility.
A CT exam involves specialized equipment that requires staff with specialized training. Though technologists can be difficult to recruit, Fort St. John and Dawson Creek are fortunate to have the highly-skilled staff available to provide these services in a timely manner.
Computed tomography (CT) is an advanced imaging tool commonly used for diagnosing and assessing trauma patients, as well as those with a wide range of conditions, including stroke and cancer. Physicians often select forms of treatment and monitor patient improvement through CT scan results. CT scans provide critical diagnostic service and are instrumental in providing the current standard of care in an acute care setting.